The Zoeller M57 Sump Pump
BRAND: Zoeller
NAME: M98 Flow Mate Zoeller Submersible Sump Pump

DESCRIPTION:
The Zoeller M98 Flow Mate is known for its quality cast iron construction and 3 year warranty. It is a best seller and rated submersible sump pump among those with the following features: 1/2 HP, Cast Iron Housing, Vertical Float Switch, 3960 GPH and 66 GPM @ 10 Foot Vertical Height, 3 Year Warranty, 10 Ft. Power Cord with 1 1/2 inch Discharge Port.
CATEGORY: "Tools", "Home Improvement", "Sump Pumps"
PRODUCT #: B000TK5ULA
REVIEW RATING: 3.5 stars, based on 385 reviews
Review Reveals Zoeller Model M57 1/3 HP Cast Iron Pump Is Durable. Consumers and Plumbers Rate It Highly.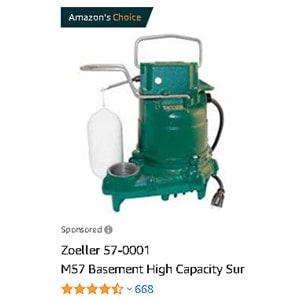 The M57-001 Mighty Mate housing, volute, and impeller are cast iron. Cast iron provides heat dissipation to keep the motor cooler when running continuously and provides strength to the impeller as it spins around during heavy rainstorms. The vortex design keeps the impeller from clogging. A vortex design allow solids up to 1/2 (one-half) inch to flow through the impeller.
The M57 Submersible Sump also has a puncture proof float. The float is buoyant and made of solid polypropylene. Thus a puncture does not cause the float to fill with water and become inoperable.
In addition the motor operates on less RPMs (revolutions per minute) than many sump pumps. This reduces motor wear and provides higher pumping performance.  Its pumping capacity as a 1/3 HP pump is equal to many competitors 1/2 HP pumps.
These are some of the reasons consumers and plumbers recommend the M57 Mighty Mate. Shop and Compare M57 with other models. Discover the quality and value of Model 57.
Well Built Mighty Mate M57
Pump Housing
The housing, volute (base) and impeller are  cast iron and a higher grade than other pumps. It weighs twenty-eight pounds so will remain quite stationary during continuous pumping. Epoxy coating keeps the cast iron from rusting.
Pump Motor
The motor and housing are built as a unit therefore there is not an extra layer of material between the motor and outside housing. Competitors who buy canned motors from another source and slip them into their pump housing find the motor runs hotter during continuous pumping.
Buoyant Solid Float is Puncture Proof
The float is buoyant and made of solid polypropylene; therefore if it does get punctured it will not fill with water and fail to operate. The float itself is protected by a  protruding stainless steel guard which protrudes from the switch box at the top. The guard keeps the float from touching the basin wall and getting hung up. The float is two pole – one at the bop and one at the bottom. The float does not move up and down on a rod so will not get stuck in the 'on' position.
Like all sump pumps the switch will eventually need to be replaced. Replacement is recommended every four to seven years depending upon the pumping frequency. Switches are easy to purchase online.
Pumping Performance Comparable To Many 1/2 HP
Zoeller motors are known for their efficiency. Since they rotate one-half as many times per minute as most competitors motors, the motor does not work as hard and thus lasts longer. Zoeller 1/3 HP pumps performance is equal to many competitors 1/2 HP pumps. Likewise the 1/2 HP pumps like M98 and M137 are known to have as much pumping capacity as a competitors 3/4 HP pump.
Clog Resistant Design
Zoeller does not use a screen to catch debris or small pebbles. Instead it uses a vortex impeller which allows solids up to one-half inch to flow through the impeller. This eliminates the need to periodically clean a screen.
Impeller Is Cast Iron
The cast iron impeller is extremely durable.  Cast iron will handle continuous whirling during heavy rainstorms and not be impacted by small solids which may flow through. The volute is cast iron as well which adds additional durability and weight to the pump so it stays relatively stationary during heavy operation.
FAQ (Frequently Asked Questions)
What horse power do I need?
✔ Do you know how many inches of water flow into the basin in 30 seconds? If not, during a heavy rain, stick a ruler in the basin and see how many inches come into the pit during 30 seconds or 15 seconds or 60 seconds depending upon how fast the pit fills up.
To calculate how many gallons flow into the basin per minute (system capacity), measure the diameter of your sump pit, then take the number of inches the water rose on the ruler. For an 18 inch diameter pit, one inch of water equals to one gallon. For a 24 inch diameter pit, one inch of water is roughly two gallons.
If the water rose 8 inches in fifteen seconds in an eighteen inch pit, the pump would need to pump at a rate of 32 GPM. Eight inches in fifteen seconds is 32 inches in 60 seconds. Thirty-two inches in an eighteen inch diameter pit is 32 gallons of water. In this case the M57 would be an ideal sump pump for your needs.
Can M57 be used as an outdoor pump?
✔ Yes, the Zoeller M57 electrical mechanisms are waterproof. The pump is built for outdoor use.  It is necessary to ensure the electrical outlets and connections into which the pump would be plugged are waterproof. can be used outdoors.  Never use an extension cord.
Do I need to put a vent hole? If so, where should it go?
✔ A vent hole is recommended because it will reduce the amount of water pushing back on the pump.
✔ The hole should be below the basin lid and below the check valve. It can be even with the top of the pump.
Should the pump operate independently off a 15 amp breaker?
✔ Yes, Never plug two sump pumps into the same electrical socket. The fuse will blow. Do not use an extension cord either.
Will this pump fit into an 11 inch diameter pit that is not very deep?
✔ Yes. It will fit. The pump is 10 1/8 inches at the widest part. The pump discharge port is about two one-half inches from the bottom of the pump. The pump is about 10.3 inches high.
DETAILED PRODUCT FEATURES
PUMPING
HP: 1/3 Horse Power
Type: Submersible, Automatic
Float: Integrated Vertical 2-pole
GPM @ 5 Ft.: 43 GPM (163 LPM)
GPM @ 10 Ft.: 34 GPM (129 LPM)
GPM @ 15 Ft.: 19 GPM (72 LPM)
Voltage: 115 or 230 V
Phase: 1 Phase
Hertz: 60 Hz
RPM: 1550 RPM
Amps: 4.8 – 9.7 Amps
MATERIAL
Motor Housing: Cast iron
Finish: Corrosion-resistant, powder coated epoxy
Pump Housing: Cast Iron
Motor, Switch Case: Cast Iron
Base: Cast Iron
Float: Solid, buoyant, polypropylene
Impeller: Cast Iron
Screws, Switch Arm, Guard and Handle: Stainless steel
Motor Shaft: AISI 1215 cold roll steel
MISCELLANEOUS
Impeller Type: Non-clogging vortex
Solids Handling: 1/2 in. (12 mm)
Discharge Size: 1-1/2 in. NPT
Pump Auto On: 7-1/4 in. (18.4 cm)
Pump Auto Off: 3 in. / 7.6 cm)
Max Head: 19.25 ft. (5.9 m)
Cord Length: 9 ft. (3 m)
Major Width: 10-3/32 in. (26.2 cm)
Major Height: 10-1/16 in. (25.6 cm)
Weight: 27 pounds
Zoeller Model Comparison M57 Vs. M53, M63, M98 Submersible Sump Pumps
Note the similarities. The similarities are what make Zoeller pumps so highly rated by consumers and plumbers.
Zoeller Models M53, M57, M63, M98 Similar Features
✔ Non-clogging vortex impeller design. No screens to clog
✔ Float operated submersible (NEMA 6) 2 -pole mechanical switch. Solid buoyant polypropylene float
✔ Stainless steel is used for screws and fasteners to prevent rust or corrosion
✔ Upper and Lower Bearings are lower oil fed cast iron
✔ Motor is oil-filled, hermetically sealed, and has automatic reset thermal overload protection
✔ All assembled units are pressure tested
✔ Watertight neoprene "?" ring exists between motor and pump housing
✔ Maximum temperature for effluent or dewatering is — 130°F (54°C)
✔ Can pass ½ (one-half) inch spherical solids
✔ Width is between 10 3/32 inches to 10 1/8 inches
✔ The discharge port size is 1 1/2 inches (one and one-half inches.)
✔ The 'Off' position is 3 (three inches).
Note the differences. Its the differences that meet the needs of so many consumers. Which model best fits your water pumping needs?
Zoeller M57 Vs. M53 Submersible Sump Pump
Differences between Zoeller M57 and M53
The M57 has cast iron housing, volute and impeller. Cast iron makes the M57 extremely durable. Model M53 only has cast iron housing. Model 53 has a thermoplastic base (volute), and engineered, glass-filled, plastic impeller with metal insert. The cost difference is around $10 (ten dollars) more for the M57 because of the additional cast iron parts. The cast iron volute and impeller add 7.5 pounds of weight to the M57.  Additional weight keeps the pump from moving in the pit during heavy usage.
M53
Same As M57 Except
– ✓ Base Not Cast Iron; Is Engineered Thermoplastic
– ✓ Impeller Not Cast Iron; Is Engineered, glass-filled, with metal insert
Zoeller M57 Vs. M63 Submersible Sump Pump
Differences between Zoeller M57 and M63
The difference between the Model M57 and M63 is the following
✔ The M63 has an extra switch case to provide another layer of moisture protection.
✔ M63 has a electro mechanical switch which reduces the amount of mechanical operation thus extending the life of the switch.
✔ The M63 plug is LED lite when power is flowing and the cord is 10 feet.
✔ The M63 warranty is two years longer at 5 years
✔ The M57 is much cheaper, around $60.
M63
Same As M57 Except
– ✓ Longer Warranty; Increased From 3 To 5 Years
– ✓ Longer Power Cord: Increased To 10 Feet
– ✓ Green LED Plug Showing Power To The Pump
– ✓ Added Viton Outer Switch Boot
Zoeller M57 Vs. M98 Submersible Sump Pump
Differences between Zoeller M57 and M98
✔ The biggest difference between M57 and M98 is the pumping performance. M98 has a 1/2 HP motor. The M57 has a 1/3 HP motor. At a ten foot vertical lift, M98 can pump 61 GPM or 3660 GPH while the M57 can pump 34 GPM or 2040 GPH.
✔ The power cord is longer on the M98. M98 has a 15 Foot Cord while the M57 has a 9 Foot Cord.
✔ The RPM (revolutions per minute for M98 is 1725 RPM. The RPM for M53 is 1550 RPM. The M98 is twelve inches high. M57 is 10 1/16 inches high.
✔ The 'On' position for the M98 is 9.5 inches (nine and one-half inches). M57 has an 'On' position of 7.25 inches (seven and one-fourth inches).
✔ Both the M98 and the M57 have cast iron housing, base (volute) and impeller.
✔ The cost difference is around $80 (eighty dollars).
M98
Same As M57 Except
– ✓ Higher HP: 1/2 Horse Power
– ✓ Power cord is longer at 15 feet
– ✓ Higher On point: 9-1/2 in. (24 cm); Lower Off point: 3 in. (8 cm)
– ✓ Higher GPM @ 5 Ft. 72 GPM (273 LPM)
– ✓ Higher GPM @ 10 Ft. 61 GPM (231 LPM)
– ✓ Higher GPM @ 15 Ft. 45 GPM (170 LPM)
– ✓ Impeller Not Cast Iron; Is Engineered Plastic
– ✓ Increased RPM (1725) due to better pumping performance
– ✓ Increased Height; 12-1/8 Inches
SHOP M57 And COMPARISON MODELS: M53, M63, M98
Zoeller Pumps Have Easy To Install Replacement Parts
As with any sump pump the float switch will eventually need replacement. Unlike the built to throw away upon failure pumps, replacement float switches are available for the M57 and are easy to replace. If the sump pump will be used frequently it is a good idea to change it every three or four years. If the pump is not used much, the switch will probably last seven years or more.
Zoeller M57 Sump Pump Installation Its Quick And Easy
Here are the basic installation steps
1) Unplug the pump from the wall socket.
2) Remove the basin cover and loosen the check valve connection so pump can be removed from the basin.
3) Unscrew the discharge pipe from the sump pump.
4) Clean the weep hole and the bottom of the basin.
5) Screw the discharge pipe back into the sump pump discharge port.
6) Place the pump into the basin and attach it to the check valve and discharge pipe.
7) Plug the pump into the electrical socket.
8) Fill the pit with enough water to test if it works properly.
Discover Why Plumbing Professionals Recommend Zoeller Pumps
The plumbers at Water Systems explain why Zoeller Pumps are highly rec0mmended.
✔ There are no screens to clog
✔ Cast Iron housing does not get as hot as plastic housing
✔ The float is not hollow and will not fill with water and thus cause the pump to fail
The Zoeller Submersible Sump Pump Stands Out
Here's what makes Zoeller Sump Pumps Special
✔ All parts are made and assembled in the USA.
✔ All pumps are tested before they leave the factory.
✔ The Motor and Housing are high grade cast iron which makes them last more than twenty years; therefore Rather than discard a perfectly good motor and housing, Zoeller makes parts readily available
What Other Pump Products Does Zoeller Manufacture?
Zoeller manufacturers a full link of pumps to protect you home. Learn more about them in the following product review
SHOP Zoeller M53, M57, M63, M95, M98 Sump Pumps
M53
1/3-HP Cast-Iron Vertical-FS 9.7-Amps 2040-GPH-@-10-Ft 3-Yr-War. 1-1/2-In-DPort 9-Ft-Cord 1/2-In-Solids ON-7 1/4 In. OFF-3 In. Automatic Primary Submersible Sump Pump
M57
1/3-HP Cast-Iron Vertical-FS 9.7-Amps 2040-GPH-@-10-Ft 3-Yr-War. 1-1/2-In-DPort 9-Ft-Cord 1/2-In-Solids ON-7 1/4 In. OFF-3 in.
M95
PREMIUM 1/2-HP Cast-Iron Vertical-FS 10.5-Amps 3960-GPH-@-10-Ft 5-Yr-War. 1-1/2-In.-DPort 15-Ft-Cord 1/2-In-Solids ON-9 1/2 In. OFF-3 in.
M98
1/2-HP Cast-Iron Vertical-FS 9.4-Amps 3660-GPH-@-10-Ft 3-Yr-War. 1-1/2-In.-DPort 15-Ft-Cord 1/2-In-Solids ON-9 1/2 In. OFF-3 in.
YES, NEXT I WANT TO?
Learn more about the topics below. Select your choice.