Need Help? Find Help With Our Sump Pump How To Library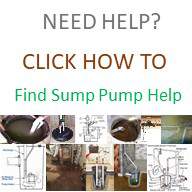 Articles & Videos Provide Help So You Can Learn More And Make Wise Decisions. Find How To Help Tips.
We understand what it is like to need help with a pump that protects so much. We want you to find helpful information so you can be knowledgeable when you talk with a plumber and hopefully be more confident when shopping and perhaps even installing your own sump pump products.
The HELP LIBRARY Menu Tab Provides Sump Pump How To.
We are excited about what you will learn and how much more confident you will become. Happy Learning!
SELECT YOUR HOW TO HELP CHOICE or Scroll Down The Page To See All.
PRIMARY SUMP PUMPS
BACKUP SUMP PUMPS
YES, NEXT I WANT TO?
Learn more about the topics below. Select your choice.